Bailey is the oldest of our current zoo. She came with the house almost 11 years ago. Yes, REALLY! I don't want to go into the whole story right now. She knows she's loved, and is a real sweetie, in spite of the way she looks in this photo! :) Guess she takes after me, and doesn't like to have her picture taken.
She does have her cantankerous moments, especially when the boy kitties start to tease her. Yes, it's like dealing with little kids.
"Mom, he's looking at me!"
"Mom, he touched me!"
If they aren't around, Bailey is a doll baby. She's doing pretty good for her age, 11 1/2 years old. In cat years, I think she and I are about the same age! I, too, have my moments! REALLY! :)
I'm sharing this with Bunny Jean's Pet Parade. Head on over and check out some more of our beloved friends, both past and present.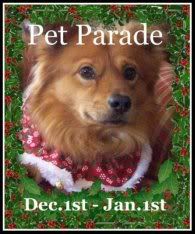 Take care and God Bless!