Hi All!
Don't forget about Bunny Jean's 1st Annual Pet Parade! Click the button to add your best buddies, too!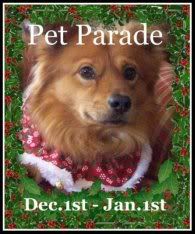 Here's my Pyewackett, or just plain ol' Wacky! He loved to help me wrap presents at Christmastime. Looks like he thought he was next! :)
This was taken Christmas 1978, so please forgive the quality of the photo. I just had a 126 Instamatic back then! :)
While you're here, why don't you head on over to Tiny Prints and check out their special going on right now.
They have a super special right now, valid through December 8th!
Find creative ways to make festive and unique
Christmas cards
! Become a part of the TinyPrints community by visiting the
blog
for news, trends, creative ideas, promotions and more. Use the discount code
10TPSPECIAL
and receive 10% off a purchase. Excludes gifts & calendars, photo books, stamps, and the William Arthur and Eric Condren products.
-- Link URLs --
"Christmas cards"
(
http://www.tinyprints.com/shop/picture-christmas-cards.htm
)
"blog"
(
http://blog.tinyprints.com/
)
Take care and God Bless!